Lil Tjay has been arrested for the second time in two weeks for illegal gun possession.
An arrest record obtained by Urban Islandz shows the rapper was arrested on Thursday, Jan. 26. He was charged with unlawful possession of a weapon, a second-degree felony charge in New York. The rapper is currently incarcerated and is being held at the Eric Taylor Center, according to booking and charging information. The Bronx rapper's bond was set at $60,000 or a $180,000 partial surety bond.
Lil Tjay's first court appearance is scheduled for February 14, 2023, in Bronx Supreme Court. The latest arrest came just 10 days after he was arrested on the streets of New York City while filming a music video for their "Gangsta Boo" remix with collaborator Ice Spice.
On Jan. 17, Lil Tjay (real name Tione Jayden Merritt) was arrested after police searched and found an unlicensed firearm.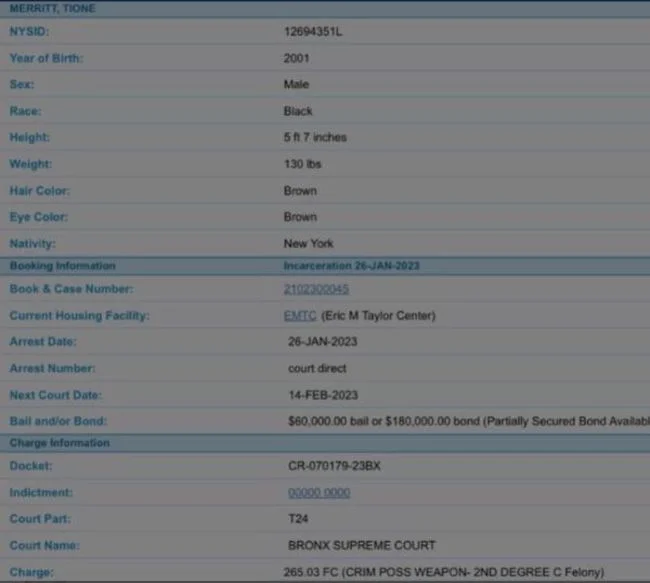 The NYPD has said the rapper was with four of his friends when they were pulled over from a car with dark-tinted windows and a missing front license plate.
Videos showing Lil Tjay in handcuffs and being escorted by police were shared online. The incident reportedly occurred at a traffic stop at 183rd Street and Lyle Avenue.
However, Lil Tjay's attorney, Dawn Florio, claims that the NYPD has targeted and profiled her client.
According to her, the police arrested her client without authorization, and they did not have a reasonable reason to search the vehicle, so the vehicle was searched illegally.
Florio added that the rapper is innocent and that the gun recovered by police did not belong to him.
She also disputed the NYPD's claim that a traffic violation resulted in a search, noting that the car was legally parked on the street.
Representatives for the rapper did not comment on the latest arrest.
Lil Tjay recently returned to the music scene after being shot seven times during an attempted robbery last year. The rapper has been in a coma with a bullet lodged in his neck. The gunman, Mohammad Konate, was charged with attempted murder, armed robbery and weapons crimes.