Minister Marion Hall, formerly known as Lady Saw, lashed out at a stalker on Sunday after she was bombarded with unsolicited nude photos at her Sunday prayer service.
Lady Saw was known for her bawdy and sexy music, which would reign for nearly three eras before she dropped the moniker and declared that she would give her life to Jesus Christ. The Grammy-winning dancehall artist has been focusing on her religious journey and now produces only gospel music.
She also hosts Sunday services on her social media accounts, where she prays and preaches to her followers. It appears her regular service has been interrupted by a stalker who used WhatsApp and other electronic means to send Hall nude photos and unsolicited messages.
In a now-deleted post on her Instagram account Sunday morning, Hall shared a screenshot showing the man's name and phone number and said he had sent her obscene messages and photos that had It's been a while.
According to her, the stalker, a man named Taj Lord, would often send her pictures of his penis, especially when she was praying.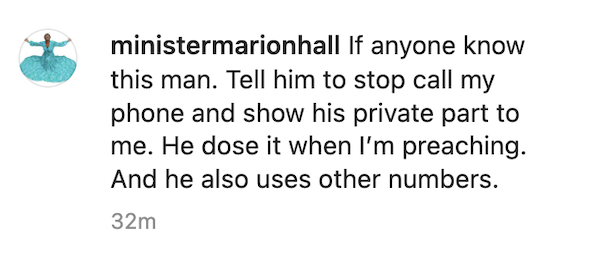 In a post immediately after the 10am service, Minister Hall shared clips on her IG account in which she shared that the stalker had been harassing her for months. She also posted a new number, which she said he used after blocking his previous one.
Some of Hall's fans hailed the man's behavior as obnoxious and disgusting, with many saying his actions were illegal under Jamaica's Cybercrime Act.
It is unclear whether Minister Hall plans to report the incident to police.
In one video, Hall said the "pervert" had been calling numbers associated with her Instagram and YouTube church ministry accounts for months, and would usually hop on to her live service so she could see he.
Hall said she was preaching on Sunday, and the man joined her stream, and at one point, he held the camera at an angle that showed him masturbating.
"I said 'you like doing this, you like disrupting God's work'. That was perverted… I just prayed for him and told God to deal with him, it wasn't a prayer of forgiveness," she added.
Hall left a message for the person who went, and she said she took a picture.
"I prayed and told God to deal with him. This man is a pervert… He chose a time like this and God gave me a mission to spread his word. This old devil called me and told me about his penis."