Shenseea sent a message to her team to make everyone aware that she means business this year.
Shenseea's chest was big on Sunday when she made several social media posts targeting unidentified members of her team, calling them out for not doing their jobs and screwing up the release of her debut album. Issuance of Physical Copies.
Shenseea answered several questions from fans on Sunday, but in a special Q&A, the dancehall artist who is crossing over into mainstream hip-hop revealed that her album release didn't go as planned because her team failed to execute some her request.
A fan asked the artist on Twitter where her physical copy of the album was, using the hashtag #AskShenseea, and she told him her "team" hadn't been able to release a CD/Vinyl copy as she had hoped.
Shenseea didn't name anyone in her reply, and the tweet was later deleted, but it wasn't the only time she criticized her team, which included Interscope Records and Rvssian's Rich Immigrants, who she was signed to, as well as her Managers Romeich Major and Wassim 'Sal' Slaiby of Salxco and A&R Donny "Dizzy Clean Face" Flores.
In another tweet, she also shared that the music video for her song "Deserve It" couldn't be released because "the director screwed it up so I decided not to put it out. Too bad," she replied to a questioner asking about the music. Video fans.
In another Instagram post, the singer shared a cryptic post that left many fans questioning if it was directed at someone in her group.
"I haven't been friends with anyone this year. Do your fucking job or get replaced," she wrote on a now-deleted Instagram story.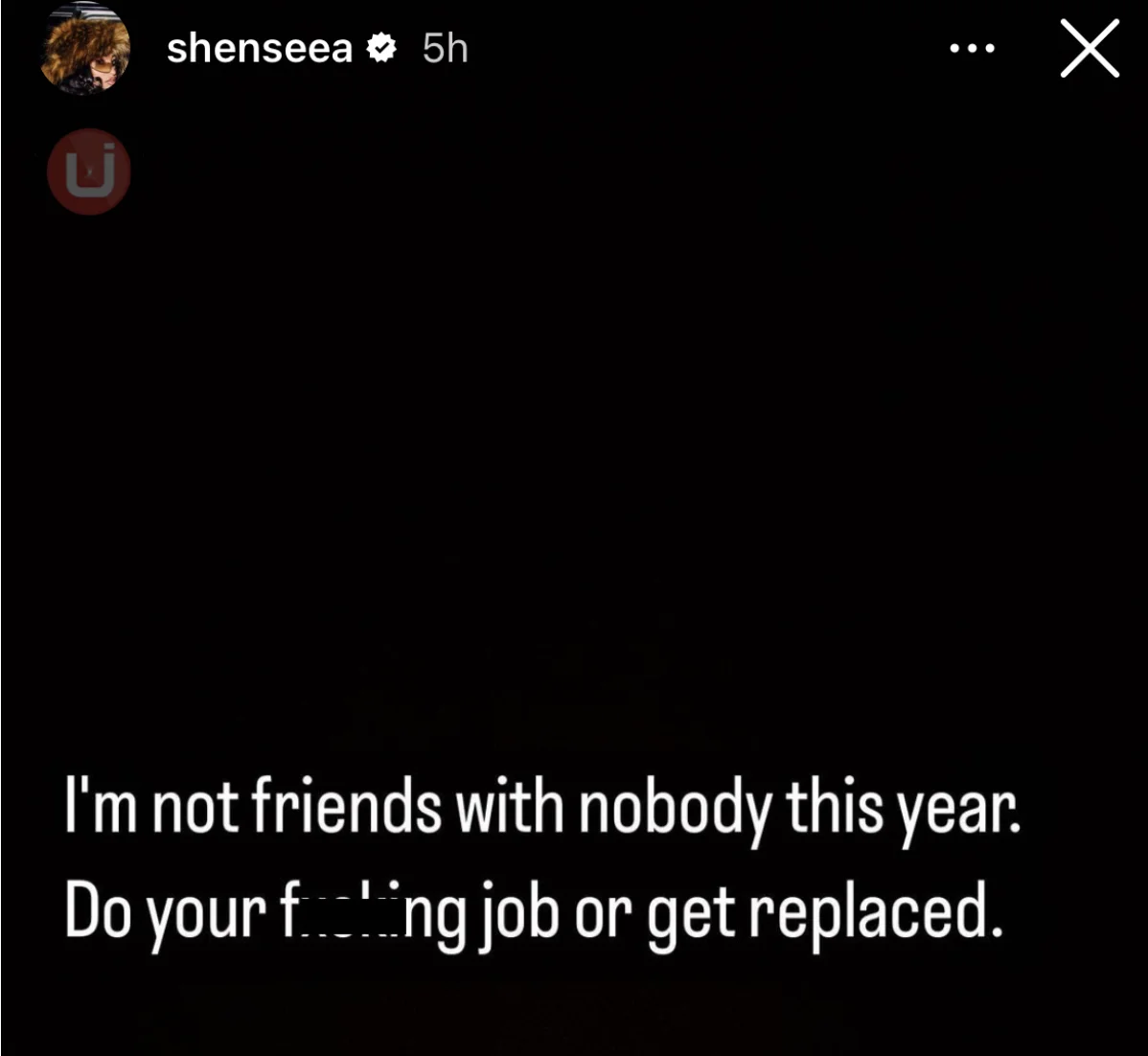 Shenseea did not address any specific issues directly with her team. She did update fans with a Q&A about her current job.
When asked about the new music, the artist revealed that she is "preparing to do a music video" for the upcoming album.
She also updated one fan on her mental and physical health, writing, "Mentally, I'm better than last year. Physically I need to do better lmao."
Despite her best efforts to make it a hip-hop project, "Alpha" hit #1 on the iTunes reggae chart. The album sold 845 net sales and just under 5,000 copies in its first week, with a total of 63,000 copies sold by the end of 2022.
Shenseea has previously spoken about her disappointment with the album's launch, revealing to fans that it wasn't what she wanted and that she wasn't involved in the process.
"My next piece will be everything I want it to be," she says. "Like, the first album, my vision wasn't really executed right and it was a block for me. It was like, yo, I know what I want. When I don't get what I want I'm fucking sick of it."