Chance The Rapper wonders if Bronx rapper Ice Spice is putting him down, or if she's praising him.
The rapper seemed to react to Ice Spice's bars on her EP's track "Like…?" which seemed aimed at him. The EP is the debut album of Ice Spice, who became an artist a few months ago with her debut single "Munch."
While some were critical of Ice's EP, it seemed others, like Chance The Rapper, supported the up-and-coming rapper. However, Ice seems to have pissed off some people, as some thought she mentioned Chance in the track.
On the track "In Ha Mood," Ice Spice raps, "He's a rapper, but no chance."
The bar caught Chance's attention, and he asked a confused question. "Is this a diss or a shoutout," he asked his followers, and voted on "diss" or "shoutout," letting his followers and followers decide on the Instagram Story. He also tagged Ice Spice, who responded.
"Never," wrote Ice Spice, who recreated Chance's Instagram Story with a tear-of-joy emoji.
Chance also reframed her story, writing, "Just double-checking lol." Some fans think Ice Spice may be responding to Drake's diss against her on "BackOutsideBoyz."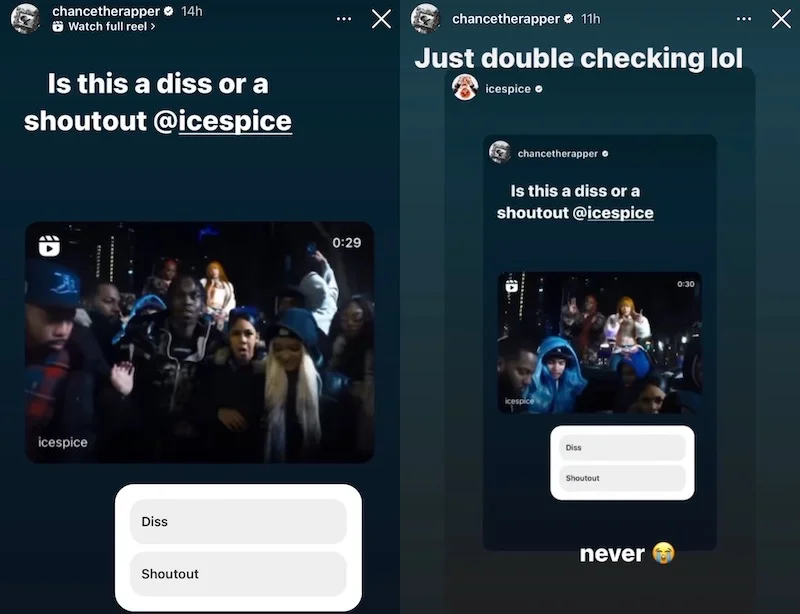 However, in a recent interview, Ice Spice said that the relationship between her and Drake is cool. "he didn't [diss me]. We talked about it. He said it wasn't about me," she said.
"At least ima 10," Ice Spice said after a fan pointed out Drake's lyrics.
The Bronx rapper's EP hit the top 50 on the US album chart with first-week sales of nearly 15,000 copies.